FISH SMITHERS
World Class waters in Smithers, British Columba
The picturesque town of Smithers is set in the Bulkley Valley of Northern BC, and is world famous for the unparalleled freshwater fishing found in all directions. Anglers from around the world seek out these productive waters for salmon, trout, and in the fall - the renown steelhead.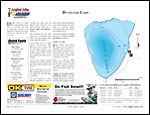 The area is also teeming with freshwater lakes of all sizes. There are several well stocked and easily accessible lakes perfect for family getaways and fly fishing adventures. Dunalter Lake (also known as Irrigation Lake) is stocked with cutthroat trout, an aggressive fish known as a hard fighter and popular among fly fishers. The lake has a small campsite and picnic area.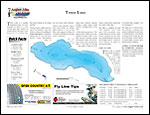 Tyhee Lake is about ten minutes from town and has a provincial park bordering the south side of the lake. It is stocked with 20,000 Blackwater rainbow trout each year and is another easily accessible lake, great for families.
For big water adventures, anglers can try Babine or Francois Lakes. Babine Lake is known for its rainbow trout fishery, with the renown Sutherland strain growing to more than twenty pounds. The lake also is home to the famous "Rainbow Alley" where the lake drains into Nilkitkwa Lake and then into Babine River.
The Bulkley River is only one of the world class rivers that surrounds Smithers. Others include the Morice, Kispiox, and Babine. Each one has unique characteristics that make the fishing opportunities around Smithers seem limitless. There are world class guides to make your trip memorable, and the knowledgeable staff at local fishing shops will help answer your questions and ensure you have the proper gear.
Plan your trip to this rural gem and enjoy the warmth and hospitality this community offers as a base for your outdoor activities. Visit Tourism Smithers for further information.
SKEENA KEY MAP
The Skeena Region covers a vast area of BC, taking up the north-west quarter of the province. This region has world class rivers and thousands of lakes for anglers to explore. The area around Prince Rupert is dominated by rugged mountains and wild rivers while inland there are lakes of all sizes, many of them stocked with trout of different strains and species. Three types of trout released in this region are rainbows, cutthroat and Eastern brook trout.
The keymap the region shows 28 popular lakes, most of them centred along the highway corridors, with a few off the beaten track. All these maps are available on our website. Use the search tool to find the map you want.
The eastern edge of this region begins at the outlet of Francois Lake, a long slender body of water known for trophy char and great rainbow trout fishing. The keymap highlights several other mid-size lakes in this area including Takysie, Uncha, Tchesinkut and Burns Lakes. To the west of this cluster lies another popular lake - Nadina Lake home to Nadina Lake Lodge.
Along the north-eastern edge of this region are Babine and Nilkitkwa Lakes. Babine is a very large lake measuring over 100 kilometres from end to end and forms the headwaters of the Babine River. At the outlet of this lake is a world famous stretch of water known as "Rainbow Alley." Some of the best fly fishing BC has to offer can be found here. Rainbow Alley empties into Nilkitkwa Lake - another great fishing lake, relatively shallow and very productive.
Along Highway 16 between Houston and Smithers are a cluster of small, stocked lakes. These lakes are near the highway and have plenty of trout. They include Dunalter (Irrigation), Helen, Round and Tyhee Lakes (mentioned above).
Two small lakes near New Hazelton are shown on the keymap - Ross and Seeley Lakes - and both have provincial campgrounds. Ross Lake is stocked with rainbow trout and Eastern brook trout.
The next grouping of lakes are near Terrace along a north-south axis. Starting in the south is Onion Lake, which is stocked with rainbow trout and connects to a network of hiking trails which leads to two other small lakes great for fly fishing. Lakelse and Kitsumkalum Lakes are two larger lakes in the area and both are popular for recreation. For salmon fishers, these lakes drain into popular salmon rivers of the same name.
Other lakes near Terrace include Pine, Redsand, Treston, Lava, Kleanza and Dragon Lakes.
This keymap of the region is meant as an appetizer to some of the great fishing lakes in this region. Around each lake featured in this guide are often dozens of other lakes that are just as productive.