Lake St. John
Alias: none known
LAKE INFO
Country:

Canada


Region:

Fisheries Management Zone 16, Ontario


Latitude:

44.6871


Longitude:

-79.3252
Access
Add an access note.
Map Marks
CURRENTS
Author: camferg88
Date: February 17th 2015
The lake is way over populated by pike. They kill all the walleye. I got one more steer eye on the ice this year but make sure u take your max of pike.
Mattmckendry said on February 18th 2015
Its not the pike that are the problem, its people not catching and releasing the walleys. If the dummies keep eating the bigger Walleys that are needed to reproduce this is what happens. Killing the pike which have always been there will only make that lake worse off than it already is. Oh by the way, whats probably eating the Walleys is the 34" Muskie I caught last spring. St Johns needs a no keepers rule for a few years. Respect the fishery and itll produce |;)
Reply to this post
Author: AnglersAtlas
Date: January 18th 2013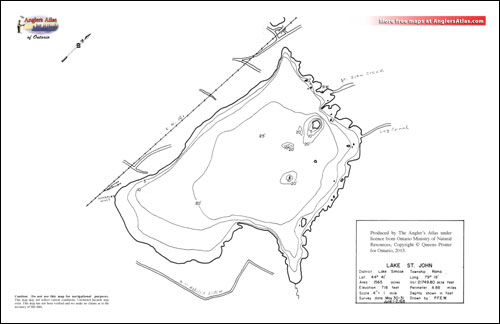 We've posted a new depth chart fo Lake St. John, near Orillia, ON. Download the map to find new places to drop your line.
Reply to this post
Author: TromblysTackleBox
Date: January 7th 2013
Good reports coming in for pike and pickerel fishing on Lake St. John. Recommend using a williams lure, tipped with a minnow. Access to Lake St. John is along Rama Road (Simcoe County Rd 44) along the east side of Lake Couchiching. Follow this road north to either Airport road or Longford Mills Road. Both roads lead to the lake. The lake access at Longford Mills puts you into a walkout bay where there is pike. If you follow Airport Road, that takes you to a point with good fishing for walleye and pike. For more current information on lakes around Orilla, drop by Trombly's Taackle Box and talk to one of us. http://www.tromblystacklebox.com/ Cheers, Nick and Bob
ambition2fish said on January 22nd 2013
Were do you get these reports?? i have been fishing on lake st.john for over 25 years. You used to be able to get an abundant amounts of walleye from the limestones and near the islands in the far end. The pike have killed this lake. Used to get 5-10+ in just a few hours. Now you could spend days on the ice and not even mark one!!! The lake has been wayyyyyy over fished and if people keep telling everyone there is good walleye there will surely be all gone very soon! The population of walleye is already badly been hurt. I personally think they should close the season on them for 5-10 years and allow the walleye to make a come back. Only ones left seem to be 4-9lb range. from my fishing days i would say this is a terrible sign! very few 12"-20" range which means very few surviving that will hit maturity and re-spawn!! LEAVE THE WALLEYE BE!!! OR THERE WILL NEVER BE ANOTHER ONE CAUGHT HERE AGAIN!!! CATCH AND RELEASE IS OUR ONLY CHANCE!!
ambition2fish said on January 22nd 2013
for the record: first weekend of jan. 2013 over 300+ people on the ice. Herd of only 2 walleye being caught. one over 8lbs and one 6lbs. You do the math?? 300 people and only 2 walleye? 15 years ago it would have been 100 people and 200-400 walleye!!! IF we dont teach the young to give back to the lake we wont have much of a lake to give!!
Mattmckendry said on November 20th 2014
summer of 2014. I havent seen walleys, caught a 34" Muskie (Thats right a muskie) in the southern weeds by the rama launch. Lots of little pike and a few 27+ ones. Lots of LM/SM north of the island and thats about it. The muskie and pike are why theres hardly anymore walleys. nice lake when the quarry isnt blasting stone, that kills any chances of fishing.
Reply to this post