Ahmic Lake
Alias: none known
LAKE INFO
Country:

Canada


Region:

Fisheries Management Zone 15, Ontario


Latitude:

45.6412


Longitude:

-79.6859
Access
Add an access note.
Map Marks
CURRENTS
Author: Writeup
Date: June 15th 2015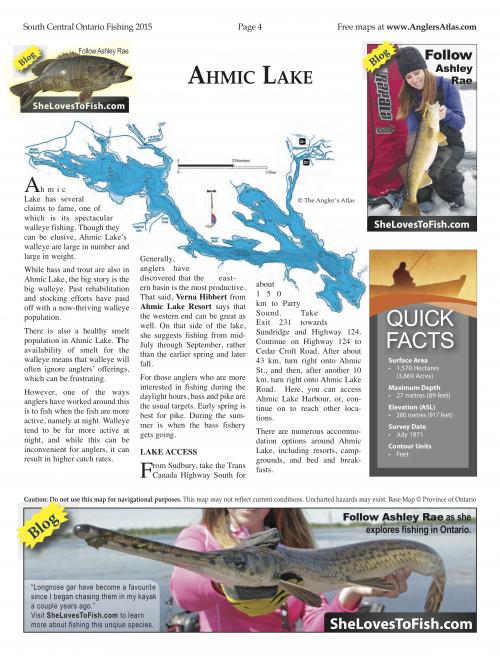 Ahmic Lake has several claims to fame, one of which is its spectacular walleye fishing. Though they can be elusive, Ahmic Lake's walleye are large in number and large in weight. While bass and trout are also in Ahmic Lake, the big story is the big walleye. Past rehabilitation and stocking efforts have paid off with a now-thriving walleye population. There is also a healthy smelt population in Ahmic Lake. The availability of smelt for the walleye means that walleye will often ignore anglers' offerings, which can be frustrating.

However, one of the ways anglers have worked around this is to fish when the fish are more active, namely at night. Walleye tend to be far more active at night, and while this can be inconvenient for anglers, it can result in higher catch rates. Generally, anglers have discovered that the eastern basin is the most productive. That said, Verna Hibbert from Ahmic Lake Resort says that the western end can be great as well. On that side of the lake, she suggests fishing from mid-July through September, rather than the earlier spring and later fall. For those anglers who are more interested in fishing during the daylight hours, bass and pike are the usual targets. Early spring is best for pike. During the summer is when the bass fishery gets going.

LAKE ACCESS

From Sudbury, take the Trans Canada Highway South for about 150 km to Parry Sound. Take Exit 231 towards Sundridge and Highway 124. Continue on Highway 124 to Cedar Croft Road. After about 43 km, turn right onto Ahmic St., and then, after another 10 km, turn right onto Ahmic Lake Road. Here, you can access Ahmic Lake Harbour, or, continue on to reach other locations. There are numerous accommodation options around Ahmic Lake, including resorts, campgrounds, and bed and breakfasts.
Reply to this post
Author: boblarryboblarry
Date: June 8th 2010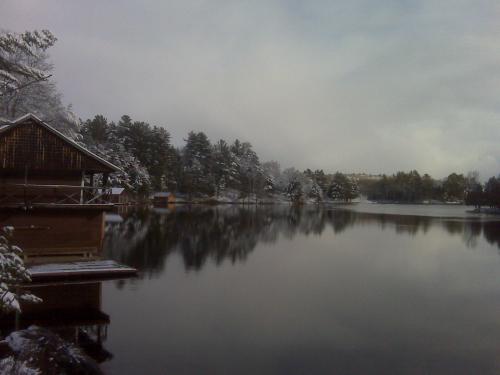 Awsome fishing in the falls.
Reply to this post