GRACIE LAKE
Alias: none known
LAKE INFO
Country:

Canada


Region:

Vancouver Island Region, British Columbia


Latitude:

49.2164


Longitude:

-125.0857
Regulations
Access
Add an access note.
Map Marks
CURRENTS
Author: sabiangler
Date: December 23rd 2007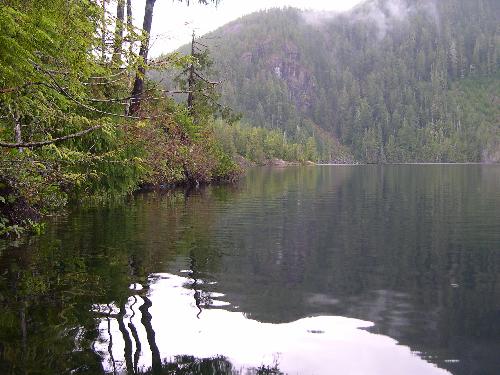 Gracie Lake has a number of points that protrude from the East shore, this picture is taken looking west towards the largest of these points.
Reply to this post
Author: sabiangler
Date: December 23rd 2007
I visited Gracie Lake in November of 2007. The road access is good, though many potholes and a steep climb from Sproat lake up to the saddle where Gracie Lake sits. There is a good deal of flood stabilization work going on along the Shore of Sproat Lake. Many thousands of dollars in the placement of large rock along steep runoff chutes and in road repair. As long as the logging company maintains this road, access should be good, but if they do not, landslides and washouts will occur within a short period of time, restricting access. The lake itself has a good parking lot with a beach launch area, though the whole area has been covered in rocks and debris by flash floods. It is the sort of alluvial fan formation you see where the trees are all surrounded by a flow of rock. This often kills the trees and some of the ones at this site look like they may already have died. Clearly this area gets huge amounts of rain and landslides are a real possibility, especially with all the logging going on. Having said that, for anglers, this is a definite risk worth taking. I spin cast from my canoe and had numerous strikes along the western shore. I caught two strong healthy rainbow trout, one about 10 inches and the other about 14 inches. I understand Gracie is not stocked regularly, but is stocked from time to time. An angler on a community website noted that he had caught some large rainbows in this lake, so I gave it a try. Sure glad I did. This lake's scenic and interesting shoreline is interesting to paddle past with rocky outcroppings and picturesque shore pine. There was a fair bit of traffic on this road in November with hunters and loggers doing their business, so I think the lake could easily be over fished. I took only the two larger fish and released the rest.
kylemills said on March 6th 2008
Fished this lake many times try to watch the ants early summer will produce some of the best fishing youl get on the island.Also go down the hill and try nahmint it will be worth it i have pesonaly pulled some really nice trophys from that lake.But they are usually very deep.
Reply to this post