Submitted by: AnglersAtlas
Submitted on: Friday the 22nd of May 2015 at 10:29am
Submitted in: Opinicon Lake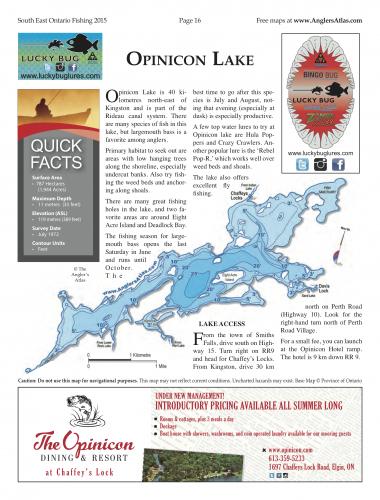 Opinicon Lake is 40 kilometres northeast of Kingston and is part of the Rideau canal system. There are many species of fish in this lake, but largemouth bass is a favourite among anglers. Primary habitat to seek out are areas with low hanging trees along the shoreline, especially undercut banks.

Also try fishing the weed beds and anchoring along shoals. There are many great fishing holes in the lake, and two favourite areas are around Eight Acre Island and Deadlock Bay.

The fishing season for largemouth bass opens the last Saturday in June and runs until October. The best time to go after this species is July and August, noting that evening (especially at dusk) is especially productive.

A few top water lures to try at Opinicon Lake are Hula Poppers and Crazy Crawlers. Another popular lure is the 'Rebel Pop-R,' which works well over weed beds and shoals. The lake also offers excellent fly fishing.

LAKE ACCESS

From the town of Smiths Falls, drive south on Highway 15. Turn right on RR 9 and head for Chaffey's Locks. From Kingston, drive 30 km north on Perth Road (Highway 10). Look for the right-hand turn north of Perth Road Village. For a small fee, you can launch at the Opinicon Hotel ramp. The hotel is 9 km down RR 9.
Reply to this post