Submitted by: Writeup
Submitted on: Monday the 6th of July 2015 at 12:59pm
Submitted in: BIRCH LAKE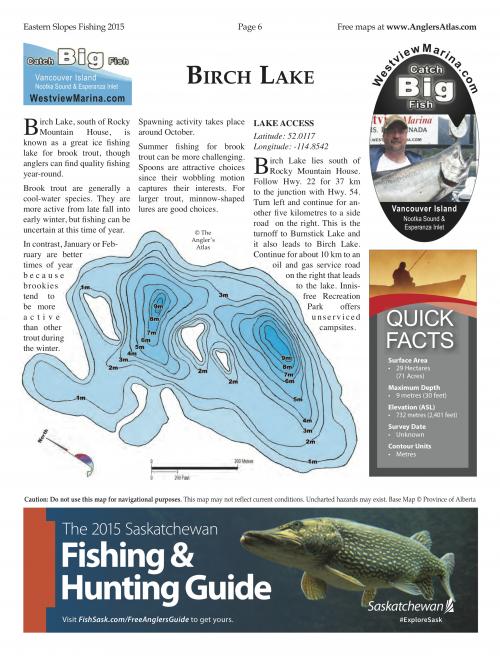 Birch Lake, south of Rocky Mountain House, is known as a great ice fishing lake for brook trout, though anglers can find quality fishing year-round. Brook trout are generally a cool-water species. They are more active from late fall into early winter, but fishing can be uncertain at this time of year.

In contrast, January or February are better times of year because brookies tend to be more active than other trout during the winter. Spawning activity takes place around October.

Summer fishing for brook trout can be more challenging. Spoons are attractive choices since their wobbling motion captures their interests. For larger trout, minnow-shaped lures are good choices.

LAKE ACCESS

Birch Lake lies south of Rocky Mountain House. Follow Hwy. 22 for 37 km to the junction with Hwy. 54. Turn left and continue for another five kilometres to a side road on the right. This is the turnoff to Burnstick Lake and it also leads to Birch Lake. Continue for about 10 km to an oil and gas service road on the right that leads to the lake. Innisfree Recreation Park offers unserviced campsites.
Reply to this post